About Dr. Jackie . . .
Jackie Alan Giuliano, Ph.D. is the president of the Center for Lifelong Learning. He is a ghostwriter and teaches speed reading programs. Prior to entering the field of education, he studied the planets in our Solar System from one end to the other during a 20-year career in the U.S. space program at the Jet Propulsion Laboratory. During those years, it became clear that there may not be a single drop of available fresh water or a breath of fresh air other than on Earth. Humans may one day live on other worlds, but the Earth will be always be our only true home.
Jackie was also a member of the Strategic Prototyping Team at Microsoft Research in Redmond, WA. There, he gave 2, 700+ tours of Microsoft's Home of the Future to over 50,000 visiting executives from around the world and conducts converstations about the state of technology in the home in the next 5 to 10 years.

Jackie has lectured widely on a variety of topics, has taught and consulted to many business and world leaders, numerous organizations, and instructed educators in techniques to supercharge their learning and critical thinking skills.
He has written over 300 articles on environmental and education issues that can be found at websites and in publications around the world. Jackie maintains an archive of his writings and work at his Healing Our World website. He is the author of two books, "Healing Our World, A Journey from the Darkness into the Light" and "Of This Earth: Reflections on Connections," a book of his nature photographs.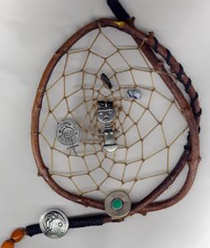 Jackie is an artist in many mediums and has taught classes in creating Dreamcatchers, Decorative Gourds, The Art of Bonsai, and Digital Phototraphy. He lives in Seattle with his wife Lani and his 11-year old son Justin. They share their space with Shadow the Cocker Spaniel, Buddy the Basset and quite a few fish and plants.
A few testimonials . . .

"Jackie is a brilliant educator. He understands what motivates adults to learn and is skilled at organizing content and presentation in a way that makes sense and captures the learner's attention."

"It was an honor to be taught these amazing tools by you! Great to be in the presence of an instructor that really knows his material and is passionate about the subject matter. . ."

"I have to say that the method you tought has had some profound effects on me. It has not only enhanced my reading, but more important, my attitude towards life."

"I am so excited about taking your class and what it enables me to do. Thank you!. "

"You are a terrific speaker and I could not have enjoyed the class more. I am thoroughly excited about the possibilities with my new found knowledge; it [already made] my studies so much easier last night. "